Russ Gregg, Head of School
Often I get asked the question, "You are so successful at teaching inner city kids at Hope, couldn't you remove the spiritual component of what you do and multiply Hope as a movement of government-funded charter schools?"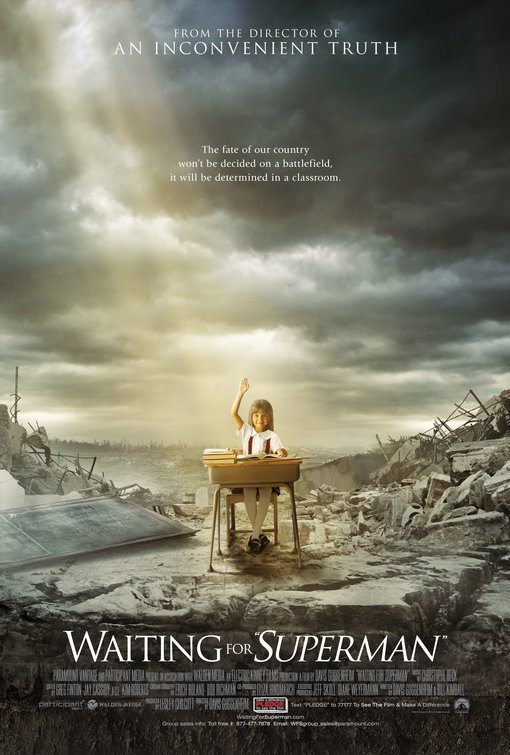 I asked myself the same question with the release of Waiting for Superman, a film that documents the heart-wrenching failure of our public school system to serve our nation's most vulnerable: inner city youth.
The question the film invites viewers to ask is, where will change come from?
The film points to education reformers and privately-run, publicly funded, non-union charter schools as the central answer.
Moviegoers may be persuaded, but I'm still unconvinced.
While there is certainly a place for successful charter schools, inner city children need something more.
In fact, recent research in Minneapolis indicates that charter schools perform the same or slightly worse than their larger, public school counterparts. (For example, see the report "Failed Promises: Assessing Charter Schools in the Twin Cities" by the U of M's Institute on Race and Poverty. Available at http://www.irpumn.org).
Kingdom School Culture
While Hope has certain surface-level similarities to charter schools (school uniforms, small classes, non-union, etc.), there are extraordinary differences.
Kristin Johnson has taught first grade at Hope for five years. She used to teach in a Minneapolis charter school.
"There's so much more depth to teaching at Hope," she says.
"Teaching at a charter school felt shallow. I wasn't allowed to point kids to an ultimate reality, purpose, and reason for their learning."
Other educators notice too. Recently, I was leading five experienced teachers on a tour. Functioning like a special operations task force, these teachers have worked in scores of public and non-public schools throughout the Twin Cities. Take my word for it; these teachers know schools.
After about twenty minutes of walking the hallways and visiting classrooms, one of the teachers turned to the others and said, "This place has such a great vibe!"
The others all nodded their heads in agreement, and another of the teachers said, "The school culture here is amazing! I love the spirit in this place."
Of course, you and I know what they were sensing. Don't we?
What they meant was, "I love the Holy Spirit in this  place. The Kingdom culture here is amazing."
Holy Spirit Education
The simple answer to the charter school question is that Hope Academy couldn't do all the good that we're doing apart from the Holy Spirit.
Let me give you four examples of what I mean:
First, it's only with the Holy Spirit that we can empower students to "turn the other cheek" when they are sinned against (Matthew 5:38-40).
One of our new high school boys is struggling to learn how to overlook an offense.
He's learned elsewhere to threaten violence when sinned against, but at Hope we can teach him how to look to God for the power to forgive others and become a peacemaker.
Second, it's only with the Holy Spirit that we can teach our students to make the vital connection that their teachers are appointed by God to serve them.
So when Hope students "listen and obey the first time" they are not only respecting their teachers, they are also honoring and obeying God. And God promises great blessing to all who honor Him.
Third, it's only with the Holy Spirit that we can remind our students that our God is a God of justice who will defend the weak against the strong.
Therefore, we are empowered to teach students not to use their strength to bully the weak but to come to their aid to defend and protect them.
Fourth, it's only with the Holy Spirit that we can teach students that their intellect, gifts, and talents are gifts from God. Students come to see themselves as stewards of His gifts, called to develop them and use them with excellence to the glory of God.
Of course, this kind of school culture produces academic excellence, but it does much, much more than that.
Most importantly, our prayer is that it will produce oaks of righteousness (Isaiah 61:3b), students who grow in wisdom, and stature, and in favor with God and man (Luke 2:52).
Affordable for All
This kind of education is costly, which is why it is usually only found in wealthier suburban communities.
Despite the cost, I believe more than ever that public funding would effectively quench the Holy Spirit education that God has called us to provide for inner city families. As it is often said, with government shekels come government shackles.
Our financial partners, though, are doing the unthinkable. They are making Holy Spirit education affordable to all the youth of the inner city—an education that would otherwise be unaffordable for nearly all of our families.
I encourage you to go see Waiting for Superman and to weep with me at the state of our nation's educational system. It is certainly a powerful film.
While you watch, however, remember that true change in the inner city requires much more than just charter schools and publicly-funded education reform.
True change begins in the hearts of students and parents. I only know one real Superman who can change the human heart: God. In a Christ-centered school like Hope, we have the great privilege to educate students to live for Him.
Each day, we as a community of staff and parents pray that God would send his Holy Spirit to help our students forgive others, honor authority, defend the defenseless, and see their gifts as God's gifts.
Would you join with me in waiting on God to give true hope to more youth and families here in the inner city?
He is the only Superman truly worth waiting for.
https://hopeschool.org/wp-content/uploads/2017/05/Logo-Stacked-Webpage2.png
0
0
Mark Pautsch
https://hopeschool.org/wp-content/uploads/2017/05/Logo-Stacked-Webpage2.png
Mark Pautsch
2010-10-18 04:29:09
2015-08-08 10:46:22
Waiting for the Real Superman